T
This happened on a weekend excursion while on a 3 week business trip to India. My job at the time involved working with a few different teams of developers in India. It was a great experience, and I will never forget my Indian friends there.{@}
We were on our way back from a weekend vacation taking a break from the hectic development release schedule, and we stopped at a random sight seeing spot. It was a lookout point, great for seeing the sunset.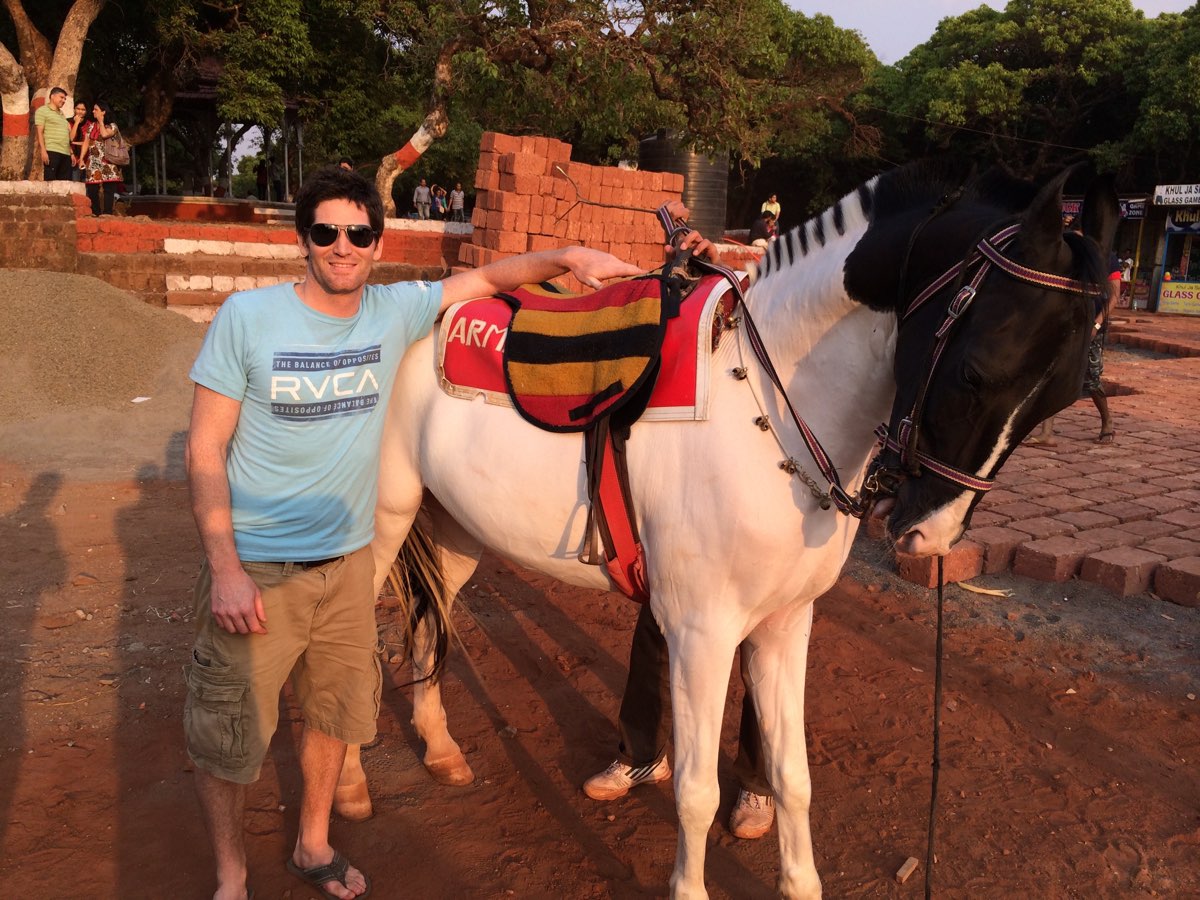 They had a bunch of side tourist trap type things at the stop, and one of them was riding a horse and also getting to do some bucking bronco "giddy ups" on it. Horse riding is one thing I have never really done, (minus a random trail ride in the Philippines at the age of 5 that I can barely remember), so I figured, "Why not, I need to get this marked off my list of things to try…?" Especially considering my love of fantasy books and movies (yes, I am kind of a nerd in that regard), they are always riding horses in the fantasy genre.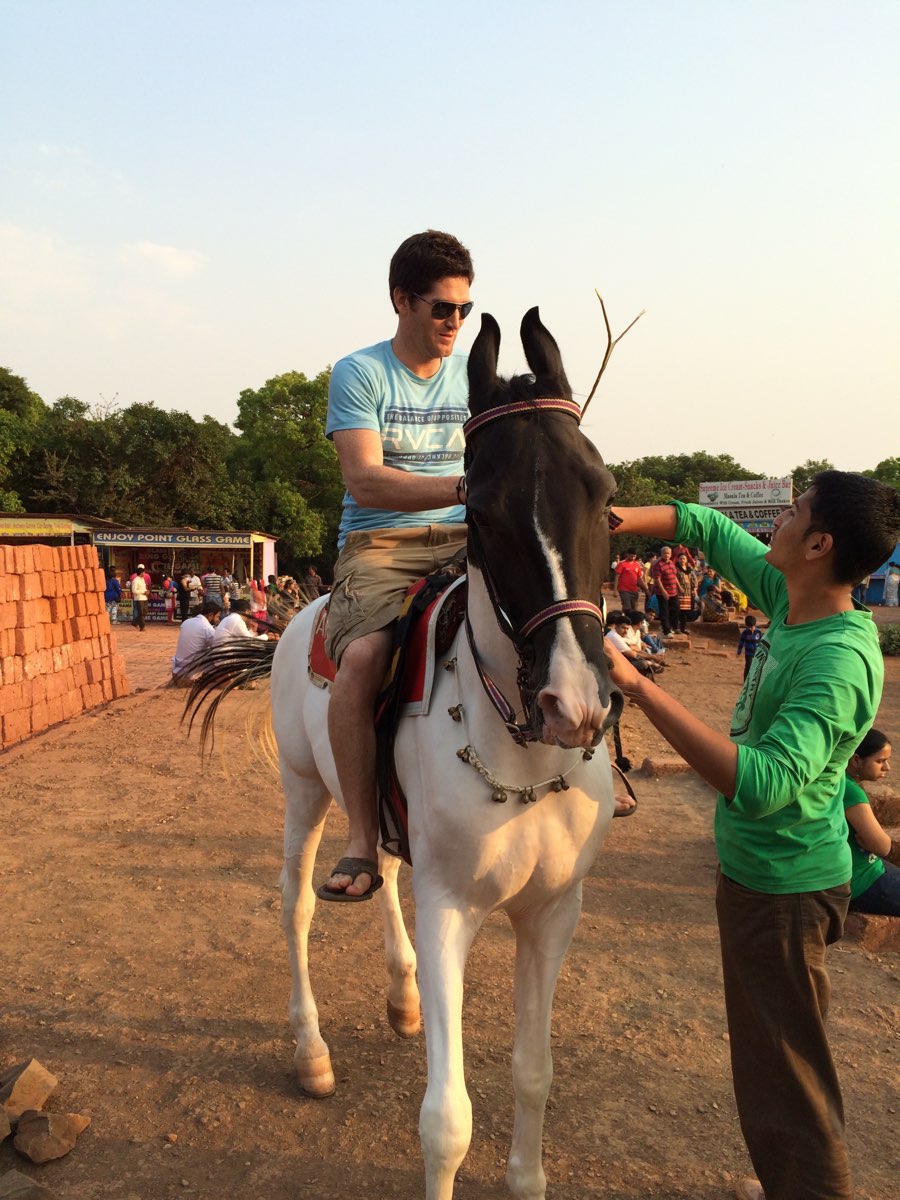 They helped me up on the horse, and I had one of my Indian friends hand me up my GoPro. They didn't give me any instructions, and the horse handler all the sudden just slaps the horses rear end and sends me off at a fast gallop. I am barely holding on trying to negotiate a little stick they gave me to spur the horse, not to drop my GoPro, and film the experience.
The horse is running along with Indian tourists all over the place, and definitely no white people anywhere in sight. In fact I think I had only seen maybe 1 other white person the whole day… Some of the Indian tourists are looking at me wondering what this guy is doing, and I am thinking the same thing…I would generally classify myself as more of a daredevil, but I have zero experience riding animals. Throw me on a motorized type vehicle and I will be fine, but an animal with its own agenda, I have no clue what to do.
The horse finally starts slowing down a bit, and I am feeling a little bit more in control. Then a new "helpful" Indian horse handler, asks something like, "Why you so slow?", and he slaps the horses rear end sending me off on another gallop, I'm thinking "Thanks buddy…" and again holding on for dear life so I don't fall flat on my face.
During this second gallop I realize that the horse is just running a loop, and we are just headed back to the starting point, so I am able to settle in a bit and enjoy the ride, and make it back with no injuries.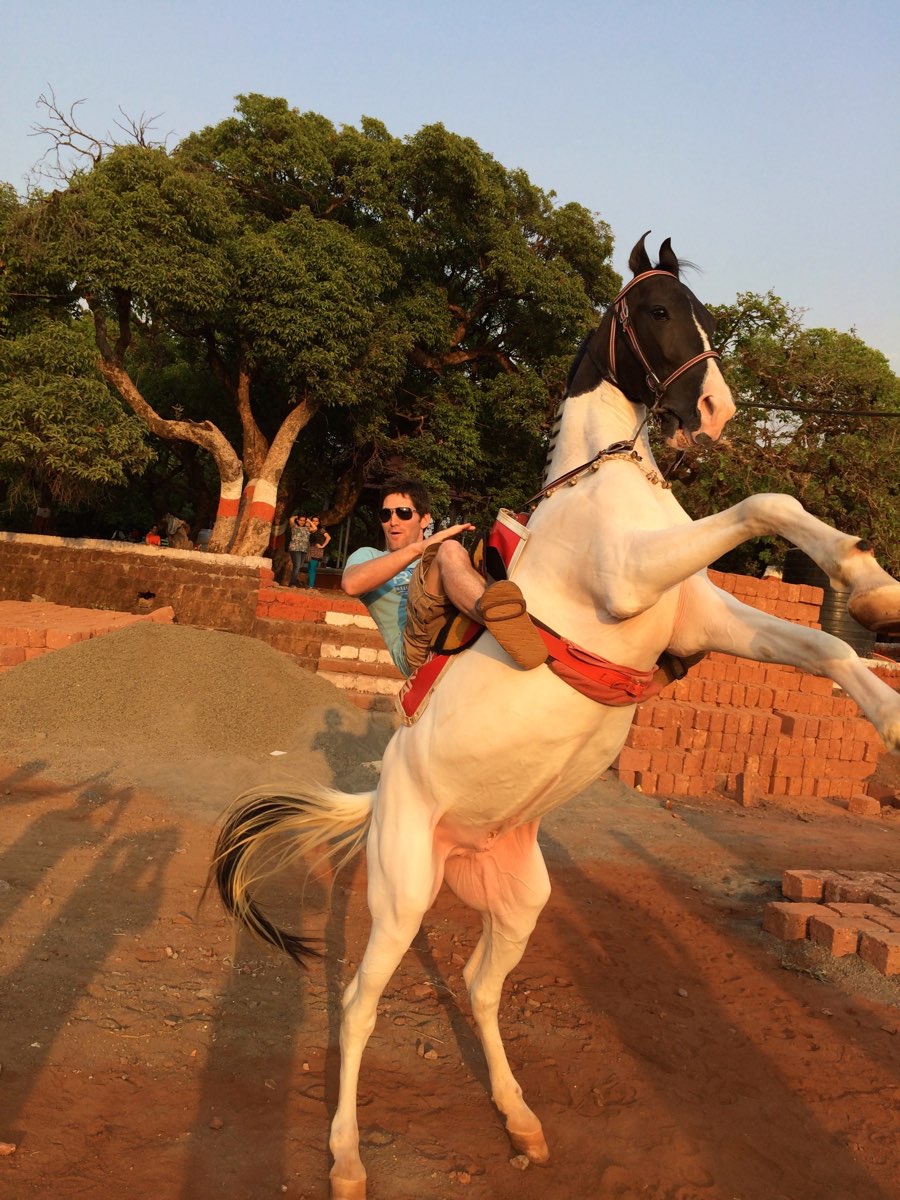 Now time for the bucking bronco "giddy ups", or whatever you want to call them. Ok, so I cropped the picture to make it a bit more crazy than it actually was, but believe me for a first time horse rider, it was plenty. How it worked was the horse handler took the horse by its mouth harness and yelled some Indian phrase and the horse would buck back super far. I, of course, having seen at least a couple cowboy/rodeo movies knew that I could only hold on with one hand…yes, probably not the smartest move to attempt given the circumstances, but hey, "I had to get a good picture for Facebook right?"
My Indian colleagues and friends were all gathered around to witness the event, so I definitely had some pressure to at least attempt to look cool, so I attempted to recreate the cowboy move while at the same time not falling on my butt. It was definitely a crazy feeling rocking way way back while the horse bucked, and once I realized I would be able to hold on, a lot of fun. Luckily, I did manage to pull through the "giddy ups" without an incident. I know you were probably hoping for a nice fall, and even better a picture capturing the moment, but fortunately for me I was able to stay firmly planted in the saddle.